Vital Unified Communications as a service (UCaaS)
Powered by Cisco
Collaborate. Innovate. Succeed.
Technology is reshaping your industry every day. You can share information and messages with coworkers and stay connected to every project. That means allowing them to connect to the right people at the right time, no matter where or when. Vital UCaaS provides convenient, affordable, and scalable collaboration features for businesses of all sizes. Connect your office workers to your mobile workers and the systems both groups use daily with a high availability communication solution.
All the features and benefits of

Cisco Unified communications

Manager

Disaster Recovery

for continuous

connections regardless of the disaster

Enterprise class communications

at an affordable price point.

Flexibility: Purchase what you

need when you need it

Secure mobility and virtualization




for anytime, anywhere communications across various devices

Value and simplicity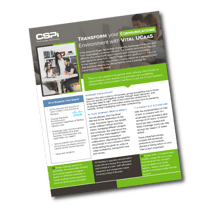 Download the UCaaS At-A-Glance to learn more.